This includes the following birth methods: natural delivery – artificial induction (medication) – Cesarean.
Printable Birth Plan Documents:
When both (or all)  babies have died:
(click either one to view, edit and print)
When one baby (or more)  has died, but one (or more)  is expected to live:
Finding ways of honoring your special motherhood:
Many bereaved mothers consider a pregnancy subsequent to loss a "rainbow pregnancy" or "rainbow baby", being that a rainbow "follows the storm" or the darkest days of loss.  Because of this, mothers too, consider a surviving multiple to be a "rainbow baby" or "rainbow multiple".  If you'd like, you might view our rainbow birth plan to find ways of incorporating these ideas into your birth plan.  In "vanishing twin" or "fetus papyraceus", you might also consider including the placenta in a special farewell, including placenta burial or cremation; just visit our farewell celebrations page for more information.
Things to Know:
Because the first plan covers 2 different birth methods, specifics to each particular birth method will be noted.
Cesarean has its own birth plan because it is so in-depth.  You might consider printing both plans, in case your birth turns into an emergency Cesarean.  There is a high likelihood that you may deliver your twins (or more) via Cesarean.
These plans do not include options you may wish to include if your baby may survive past birth, including possible resuscitation, ventilator use, medications and additional testing.  You should consider including these things if there is a chance of your baby surviving for any additional time past delivery.
Learn more birth education, and what to expect during labor, here.
Please visit our link on general postpartum health (your emotional and physical health after delivery).
Helpful Tips:
Delayed Interval Delivery:
Know that your babies may not be born at the same time; referred to as "DID" or "delayed interval delivery".  This may lead to weeks of bedrest if the pre-born multiple is still alive.  Stillbirthday mothers have also shared that they have experienced the loss of one multiple in pregnancy where it was determined that the baby "reabsorbed" (as we discuss in the vanishing twins information), but that hours or days after the birth of their full term live birth surviving multiple, they gave birth to their tiny multiple who was not alive.
We have information regarding vanishing twins and "fetus papyrus".  We also hold photos specifically of twins and multiples at various ages and involving various factors.  The photos link also leads to our multiples birth stories.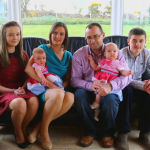 Rainbow Multiples:
Stillbirthday mothers who have surviving multiples, might consider them to be "rainbow" babies.  A "rainbow" baby is one born after experiencing loss.   We have beautiful and validating resources including our Rainbow Milk campaign.
One other kind of multiple that stillbirthday families may experience is Irish twins.
Other Helpful Tips:
If your state doesn't offer a birth certificate for stillbirth, consider printing off our unofficial birth certificate (found at the Farewell Celebrations link).
Consider arranging the funeral to take place after you have physically recovered, if you've delivered your babies via Cesarean birth, or arranging the funeral to take place after your live baby has been discharged from the NICU, so that you can participate as well.
Consider special farewell words or music.
Also include a personalized farewell celebration.
Ask for your ultrasound photos, or visit a local Crisis Pregnancy Center that performs ultrasounds, and ask if you can have one last photo of your baby.
If your baby still has a heartbeat, consider using your cell phone or other recordable device, and record the doppler's sounds of your baby's heartbeat.  You can then add this to a Build-A-Bear as a momento.   Alternatively, you can purchase a beautiful Angel Heartbeat Bear, which has everything included.
More momento and special ideas are listed in the birth plan.
How far along are you? Have an idea of what your babies may look like:
Additional resources
for loss involving multiples: