Marion Lane is an absolutely talented artist.
She is also a bereaved mother.
In 1963 she donated a powerful art piece to the Brooklyn Museum, after the death of her 2 and 1/2 year old daughter, Paula Ann.  Marion shared with me that she felt she needed to paint this piece and donate it to help her "move on".
 "Grief" by Marion Lane, 1963
I have found myself captivated by this piece.  This is what I see:
First, her femininity is directly connected to her baby girl.  One breast appears missing, while the other trails down to her daughter.  She might have still been breastfeeding her daughter.  We can't see her eyes, but her mouth is very prominent – trying to communicate her anguish but feeling unseen.  The bold colors and lines that connect to her baby, all run through her.  The gold line stands out as a color of hope, and being in her hand seems to show her hope that in painting perhaps this very piece, something may be expressed or released – that she may find healing – because, the rest of her body is purple, as if it's cold, a real part of her has died along with her daughter.
This week, she will be presenting her most recent work at WestBeth Gallery.  Details below:
While most of her work is abstraction, this powerful piece will also be there: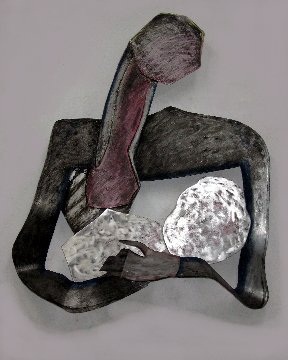 This piece, entitled "Mother and Child"  is a wall sculpture made of sheet aluminum, with some portions painted, and some unpainted. 
This contrast, isn't it powerful?  The seeming flatness of the mother, the dimensions of the child, the trail of crimson that breaks through the seemingly black and white and continues to connect these two…
Please, take a moment to visit Marion Lane's website to learn about more of her work and her future exhibitions.