Becoming a doula is an important, healing, wonderful way of bringing validation into your own experiences as well as doing something very constructive, intentional and meaningful for others.
The stillbirthday doula program is right for:
the grieving mother.
the healthcare professional.
hospital systems, healthcare organizations or other groups.
anyone who wants to know how to better support a mother through birth, through bereavement, or both.
Enrollment Sale
$250 standard enrollment is now $150 plus a $50 coupon for $100 total enrollment: no hidden or recurring fees, ever.
[Here is one-click enrollment into the doula program]
The stillbirthday doula program is the first and best of its kind.  It is recognized throughout the world as the foremost, trusted resource in Birth & Bereavement Doula® support.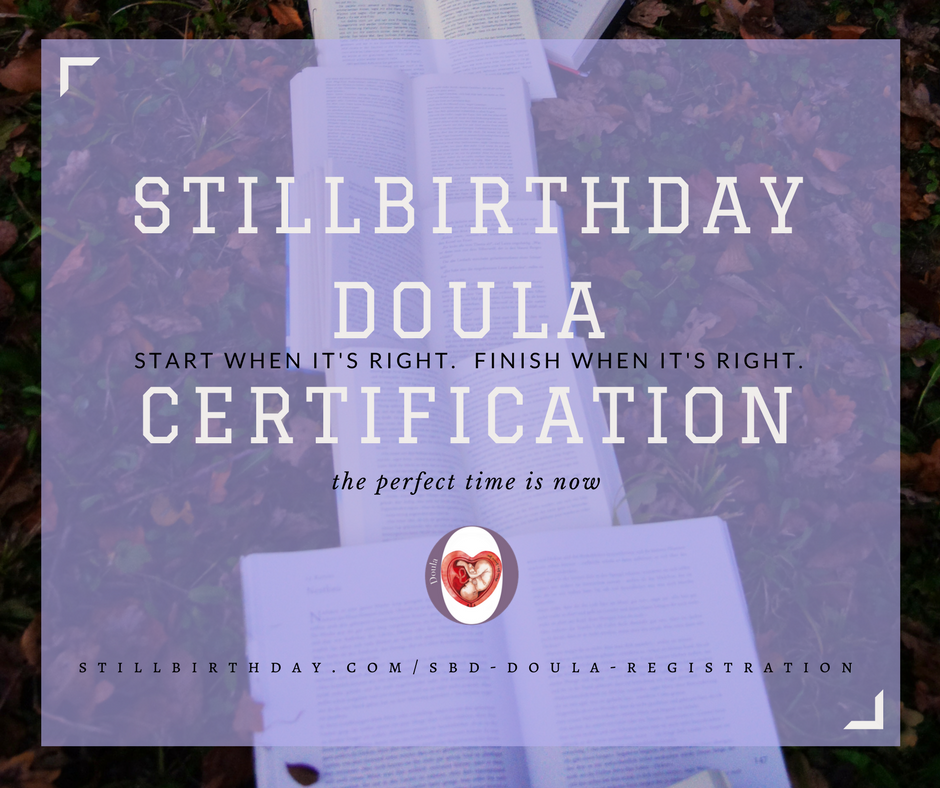 A Quick Overview
Our program is available entirely online.  Through a customized database created exclusively for the SBD Doula learner, you will access eight modules, and within each module, you'll receive a chapter file, each with a corresponding open book exam.  We encourage you to move through these exams in a weekly format, though this is an at-your-own-pace course.  You are not penalized in any way for needing more time.  This is also a great program for hospital systems or other large groups.
From learning about pre-conception through postpartum and every variable in between, to creating a business or ministry model, this program is more than an academic experience, it is the beginning of a longtime healing journey.  You become part of community.
As well as being an at-your-own-pace course, we provide you with a Study Hall, which allows you to interact with others through a social media construct, to ask questions, relate the materials to one another and insodoing, experience student-led, peer networking and learning.
In our Study Hall session, SBD Doula alumni volunteer to ask general questions or offer friendly notes of encouragement to the class.
While you can complete the program independently, we offer many avenues for connection.  In addition to our Study Hall, we offer the option for you to hire a Faculty Aide team member, whose role it will be to message, tag or email you, once a week for the eight weeks we encourage you to complete the program.  Remember, even if you take more time, there is no penalty for this.
In addition to completing the eight open book exams, two book reviews and a Community Project (all explained through the program) will complete your certification!  You will be published at the website and qualify for a number of special features of being a graduated SBD Doula®.
Benefits of SBD Doula Certification
The SBD credential is Still Birth Day abbreviated, certifies you as a Stillbirthday Birth & Bereavement Doula®, and represents Supporting Birth Diversity.  This means:
that you are certified as a traditional birth doula, and, certified as a bereavement doula.
means that you are part of the first and best organization and training of its kind.
makes you part of a globally respected and federally recognized academic institution and credential.
you will be prepared to provide support to families experiencing any birth outcome and provide support for birth in any trimester.
means you'll be certified as a "real doula" who has far superior knowledge in the most subjects pertaining to pregnancy, birth, postpartum and bereavement. 
makes birth and bereavement support training accessible and inviting to medical and birth professionals.
makes birth and bereavement support training accessible to mothers who simply want to support their peers.
means you are a part of a professional, reputable resource and team dedicated to providing support to families.
means your listing at the site will be in a highly noticeable location complete with profile photo (optional) and a short description of yourself.
means you'll be part of our global paradigm shift that places intuitive compassion coupled with a skilled love as our basis of support and as a replacement to the current, sanitized fear based approach which limits support to families experiencing birth and/or bereavement.
places you within our online group that encourages fellowship, continued education, and ongoing social, professional and educational benefits.
means that you can access professional mentorship through the duration of your career.
provides exclusive discounts on valuable supplies as a birth & bereavement doula.
provides a platform for academic and professional advancement.  Email heidi.faith@stillbirthday.com for details.
Again, please enjoy our listing of even more reasons and benefits to joining SBD!
Check out all kinds of additional information here.
More Connections!
If you enjoy hands-on learning, you might consider our Day Training as a supplement to your certification.
SBD graduates can consider joining our SBD Chaplaincy program or our free Adoption Doula add-on.
Get Started!
Click the photo or here to start enrollment.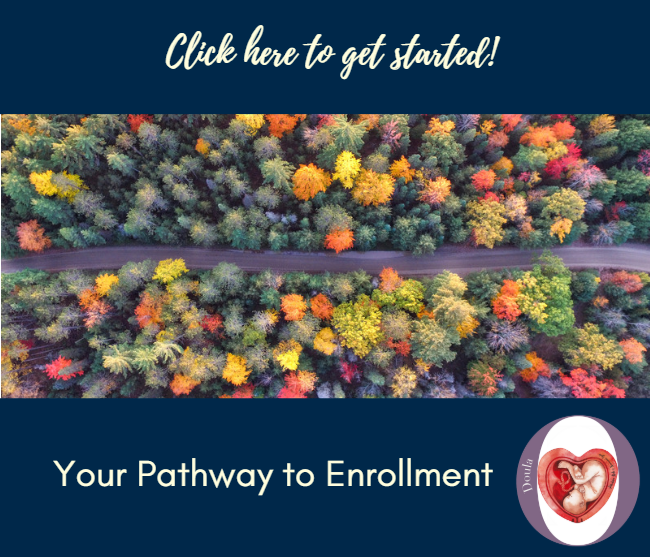 When You're Enrolled
Please be sure to join us at SBDU Admissions or email Heidi.Faith@stillbirthday.com