Created By: Angie Chelton
This is a feature for our newsletter that is created to help us celebrate the ways in which our children positively impact our world.
The following is an excerpt from the toast I gave in honor of my son on that night he was born:
Anduril's life, no matter how short, had purpose. He touched every one of us here in some way. Like the ripples in a pool when a stone skips on the surface- brief contact followed by lingering consequence- Anduril's life will continue to shape us all. We grieve, but we grieve with hope because we trust our Master for redemption of this sorrow. We know by faith that everything that happens in our lives, no matter how dark and painful, can be turned into gold if we trust the Lord and rest in His unquestioned goodness and amazing love.
It was as clear to me then as it is now, that my son- and his elder sibling Calan who was also born sleeping- have immense value to this world. Their lives are inspiring goodness and, like ripples in a pond, each positive impact creates another wave…
Ripples is about ALL our children- it's about the way YOUR child, YOUR children continue to shape the world through others. So let's hear your stories of hope from sorrow. Tell us how your child(ren) have inspired good, how their lives continue to matter, how the world is a better place because of them. I know that even through the tears, we have much to be thankful for.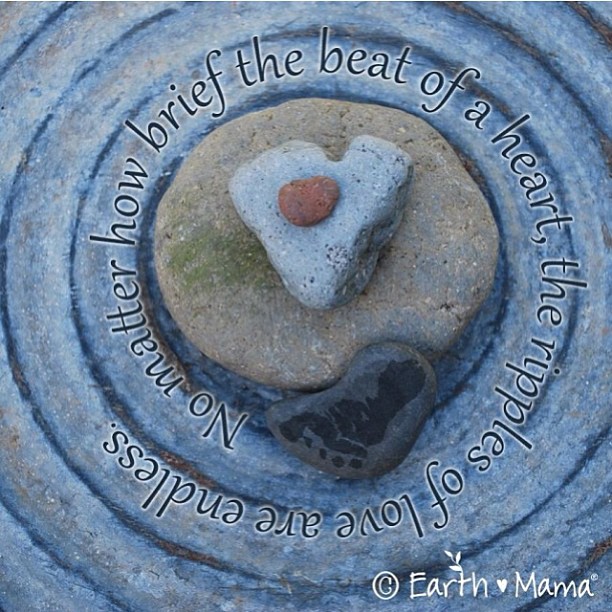 One of stillbirthday's favorite places is Earth Mama Angel Baby – and we love this art piece they created!
Sharing your ripples is not the same as submitting your story to stillbirthday, which we also encourage you to do.  This is a specific activity of identifying the hope in our sorrow.  To have your story of hope and positive impact featured in the Ripples section of the stillbirthday newsletter, share yours below:
So here are a few ways in which Calan's and Anduril's lives are positively affecting this world:
Their mom has been spurred to birth and bereavement work
Their younger brother and sister are very attuned to babies and fragile things
Their grandparents and great grandparents reach out to others who are hurting
A mother told her story of loss for the first time after almost 30 years
A mother was validated concerning her the death of her infant son in the 1950s
A father whose wife suffered 7 miscarriages received comfort and support
A mother was able to celebrate the life of her daughter publicly
From 13 New Moons, the online source of the rippling heart:
Love is the primary pattern and is beyond description or definition. It is the glue that holds the atom as a unit. What is it that keeps the electron from spinning off and becoming its own universe? Love. Love contains the hologram of the unified principles of form.

To experience Love requires an authentic experience of self-love. Love ripples out from the first dynamic to the ends of the universe—the first dynamic being self-love. Love's synonym is grace. Grace is full reconciliation with God. True experience and understanding of Love render death not only not frightening, but impossible. To become the embodiment of Love is everyone's ultimate destiny. The principle of Love is not a sentimental or emotional attachment to a person or thing. It is, instead, the sourcing of our very existence. Humans are creatures of Love. The primary challenge of a human being is to expand his or her awareness in order to understand Love's magnitude. Love is focused on the angels. This means that the angelic realm is programmed to love unconditionally. They do not have universal permission to interfere with a human's free will. However, they can and do hover nearby, waiting for human minds and hearts to align with an attitude of Love. At that point, they reinforce every loving act that is chosen by the human.
Shared by Holly:
Riley was born sleeping at 34 weeks in September. She has changed so many people in my family and helped so many in our community. I have had a strong faith since I was younger, but my husband not so much. I swear that she is my husband's angel. He was never spiritual or religious, but when he lost his little girl, knowing that if he accepted Christ, he would be able to see her again changed his life. My sister and I had been distant for years. She was there when I delivered Riley and it meant so much. We are so much closer now and got matching tattoos for Riley. We had just had her shower and had received so many nice things. Rather than taking these things to a thrift shop, we donated everything we had to a crisis center. The center hosts baby showers for the girls that go there. We donated the gift bags and diapers cakes, etc. The center's director told us that we have helped so many people by donating these things. This little 4lb baby has impacted so many lives.
Share your Ripple here!