This can be a handy window to keep open as you follow the steps to enrollment.  What we've found is that our registration process contains easy steps, but, lots of easy steps.  So having them all in order here makes for things to be much smoother to follow.
01.)  Visit our registration page: www.stillbirthday.com/sbd-doula-registration
02.)  Read all the great information on the page about our program, including reading about our Faculty Aide Team.
03.)  Click the "cart" button.  It looks like this: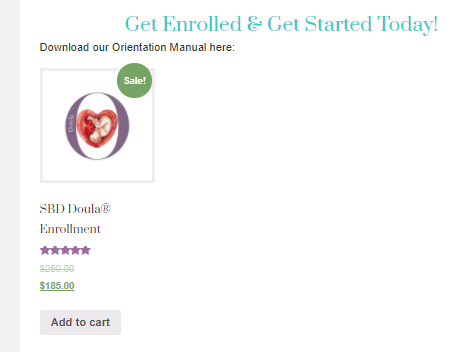 04.)  Note how the same screen changes to reflect that you've added to your cart.  You will see this: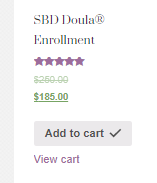 05.)  That "view cart" becomes a clickable link.  When you click on it, it will take you to a new page.  You will see this:
06.)  Here (above), on the "Cart" page, you are able to enter in current coupons, update cart, and proceed to checkout.
07.)  Finally, when you click that "Proceed to Checkout" bar, it will take you to a page to enter in your data, and complete payment.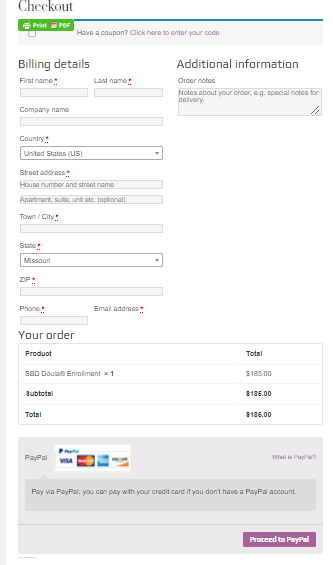 08.)  When you've completed this process, you are enrolled!  You will receive:

a receipt from paypal,
you will receive an Instant Download PDF file we call our Orientation Manual,
you will receive an invitation to join our SBD U Admissions group (our Orientation Manual & student accesses are all there), and
you can communicate with Heidi Faith, founder, in a number of ways.
Heidi Faith can be reached at:
heidi.faith@stillbirthday.com
facebook.com/sbd.heidi.faith
816.343.4615