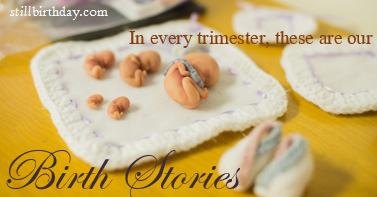 Our library is divided into 3 sections: by birth week, by our experience, and by healing activities.
This is just our library of stories.  For articles, information, networking resources, please visit the tabs at the top of the page.
01.] Birth Stories: By Week
This section holds our baby's birth stories.  They are held in sections according to when our babies were born and/or when our babies died.  You may see personal photos within our stories.  The second section below holds our stories according to our experiences and journeys.  You may find a story in more than one listing.
04 Weeks  .   05 Weeks  .  06 Weeks  .   07 Weeks   .  08 Weeks
09 Weeks  .   10 Weeks  .   11 Weeks  .   12 Weeks  .   13 Weeks
14 Weeks  .   15 Weeks   .  16 Weeks   .  17 Weeks  .   18 Weeks
19 Weeks  .   20 Weeks  .   21 Weeks  .   22 Weeks   .  23 Weeks
24 Weeks  .  25 Weeks   .  26 Weeks  .   27 Weeks  .   28 Weeks
29 Weeks   .  30 Weeks  .   31 Weeks   .  32 Weeks  .   33 Weeks
34 Weeks   .  35 Weeks  .   36 Weeks   .  37 Weeks  .   38 Weeks
39 Weeks   .  40 Weeks   .   41 Weeks   .  42 Weeks   .  43 Weeks
02.] Our Stories: By Our Unique Experiences
Adoption/ Foster/ Surrogacy Loss
All Multiples All Newborns/ Diagnosis
Child Death (infancy to adulthood)
Diversity (cultural, ethnic, faith, regional)
Donating Decisions (organ, tissue, breastmilk)
Ending Fertility With Loss & TTC Challenges
Friends & Family (stories from loved ones perspective)
Holidays (and the struggle to face them)
Home Birth Loss/ Out-of-Hospital Loss
Honoring Uncertainty (for mothers who believe they experienced loss but do not know for certain)
Infertility/ Recurrent Loss (different from "ending with a loss", this section includes recurrent losses)
Leap Day Losses (the calendar only honors this day once every 4 years.  We honor this day every year.)
Live Miscarriage ("neonatal death" of babies born alive prior to "age of viability")
Living Grief (includes adoption, menopause, or decision to end fertility, while still recognizing the pain of loss in this decision)
Loss after ART (assisted reproductive technology)
NICU Grief (the difficult journey of just the NICU)
Prior to the 1990's (because every decade sees dramatic change in support)
Provider Care (stories for and by providers: nurses, doulas, midwives)
Siblings (stories & art for and by siblings, as well as general information that may support youth)
Single, Separated or Widowed Parents
Snowflake Babies (frozen embryos)
Stewarding Grief (decision to end fertility but grieving)
For More Reading by Specific/Unique Subject
03.] The Journey Beyond: After the Birth Stories
Our birth stories are often just the beginning of our story.  Here, stillbirthday offers several ways for you to continue to share about your journey, including activities, events and more.
Art/Photography/Color
More Parts to Our Stories/ Life After Loss
Still Parenting Journal An opportunity for you to piece all of your contributions, birth stories, art, love letters and more and gather them into one link, called a Still Parenting Journal.
SBD News/ General
For More Reading