Learn how to serve families well.
Join our Birth & Bereavement Doula® program.
If you are in need of a doula right now, please click here to view the stillbirthday global doula network listing!
Join Excellence.
Established in August 2011, stillbirthday provides the most comprehensive, globally accessible, dual training program of its kind, combining a complete birth doula preparation program with an intensive bereavement doula training.  Upon successful completion of our course and earning the SBD credentials, you will be capable of providing support for birth in any outcome and in any trimester.
Through stillbirthday, you can earn globally respected and federally protected credentials as a
 

Birth

&

Bereavement

Doula®
Join us at Stillbirthday University.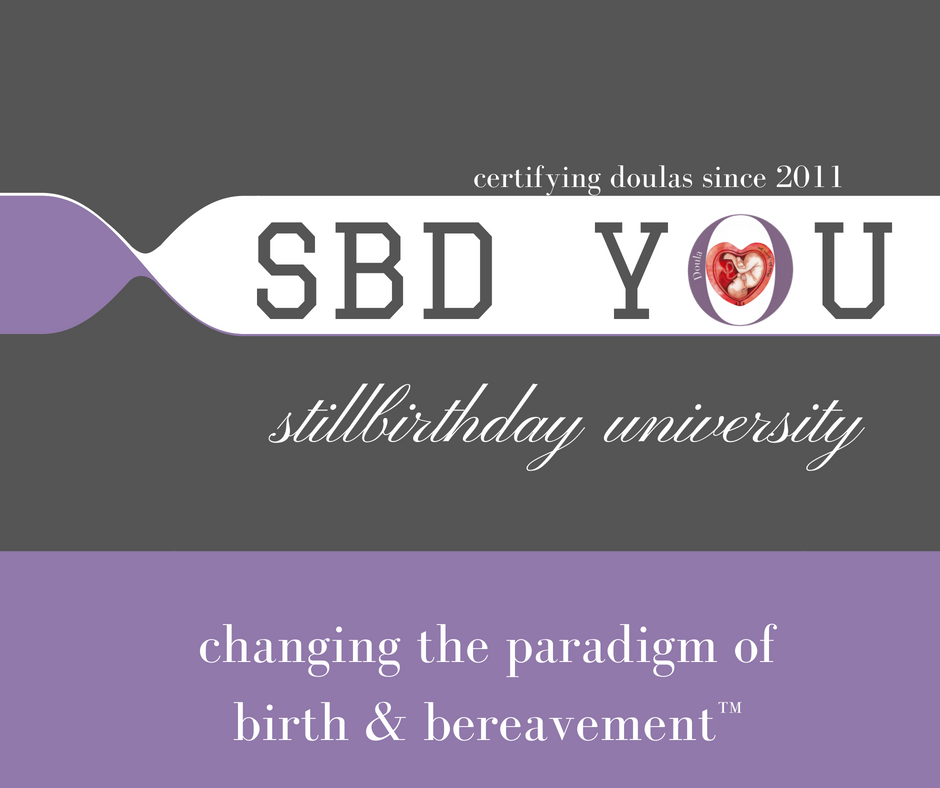 Learner-Led.
This is a fully online, at-your-own-pace, group support, certification program.
Find out how we do it:
NO REQUISITES OR EXPERIENCE NECESSARY:
No previous education or background preferential.
All you need is internet access.
Accommodating to adult learner styles and differently-abled learners.
LEARNER LED TIME FRAME:
You can enroll right now.
You can gain access to your materials right now, and get started right now, or choose to wait until you are ready.
You will be added into a current, active social group where learners can gain peer support in perspectives and resources.  We provide two learner sessions per year (January start and July start) to ensure every learner is in a rich, diverse and active group.
There is never any penalty for taking the time you need to complete your assignments.  There is no re-enrollment or transferring.  This is a seamless path that unfolds in the way you design.
LEARNER LED LEVELS OF SUPPORT:
Revised study materials include markers to indicate exam questions.
Peer support and SBD Alumni offering words of motivation are complimentary, included resources for you.
Faculty Aide support can offer more specifically tailored encouragement for you.
Dedicated Student Coaching offers direct feedback from Heidi Faith on each of your exams.
STEPS TO ENROLL:
complete tuition
join SBD U Admissions
join your Study Hall
Our Admissions classroom group is an online orientation group where you'll complete the narrative portion of registration via our Welcome Letter, receive our Orientation Manual, be added into your Study Hall, gain all the materials you need, and so much more!  That's it!
If you don't see your Admissions group, have any tech issue in registering, have a large group you want to educate, or don't use facebook, just connect with Heidi Faith, through email at Heidi.Faith@stillbirthday.com or message on facebook.
STEPS TO GRADUATE:
Successful completion of 8 open book exams
Comply with our code of respectful and responsible conduct
Complete Final Tasks: 2 book reviews & Community Project (a listing you compile of your area birth resources and bereavement resources for families)
Earning the SBD® Credentials
The SBD credential is Still Birth Day abbreviated, certifies you as a Stillbirthday Birth & Bereavement Doula®, and represents Supporting Birth Diversity.
This means:
that you are certified as a traditional birth doula, and, certified as a bereavement doula.  If you are already a birth doula, the first portion of the training (preconception, prenatal nutrition, signs & stages of labor, birth options) may contain information that is familiar to you, but is presented within an entirely new perspective.
that you are part of the first and best organization and training of its kind.
makes you part of a globally respected and federally recognized academic institution and credential.
you will be prepared to provide support to families experiencing any birth outcome and provide support for birth in any trimester.
means you'll be certified as a "real doula" who has far superior knowledge in the most subjects pertaining to pregnancy, birth, postpartum and bereavement. 
makes birth and bereavement support training accessible and inviting to medical and birth professionals.
makes birth and bereavement support training accessible to mothers who simply want to support their peers.
means you are a part of a professional, reputable resource and team dedicated to providing support to families.
means your listing at the site will be in a highly noticeable location complete with profile photo (optional) and a short description of yourself.
means you'll be part of our global paradigm shift that places intuitive compassion coupled with a skilled love as our basis of support and as a replacement to the current, sanitized fear based approach which limits support to families experiencing birth and/or bereavement.
places you within our online group that encourages fellowship, continued education, and ongoing social, professional and educational benefits.
means that you can access professional mentorship through the duration of your career.
provides exclusive discounts on valuable supplies as a birth & bereavement doula.
provides a platform for academic and professional advancement.  Email heidi.faith@stillbirthday.com for details.
Again, please enjoy our listing of even more reasons and benefits to joining SBD!
Contact Hours
You can click to view or print the Stillbirthday Birth & Bereavement Doula® learning promotional material,
for yourself, or to give to any of your medical providers:  SBD Promotional Material
SBD graduates may eligible to earn 35 nursing contact hours:
successful completion of the entire program, and
weekly participation in classroom (one comment/question weekly minimum), and
book review "Companioning at a Time of Perinatal Loss", and
a second book review from our title list, and
training evaluation.
This continuing nursing education activity was approved by the Midwest Multistate Division, an accredited approver by the American Nurses Credentialing Center's Commission on Accreditation.
For more information regarding contact hours, please call Heidi Faith at 816.343.4615.
~~~~~~~~~~~~~~~~~~~~~~~~~~~~~~
 Register Here
We are so excited for you to join us! 
 
Your Pathway to Enrollment
This enrollment process uses multiple screen navigation to ensure a step-by-step process of your options, allowing you to select from individual or group registration, check for coupons, get enrolled, and download our Orientation Manual, all here: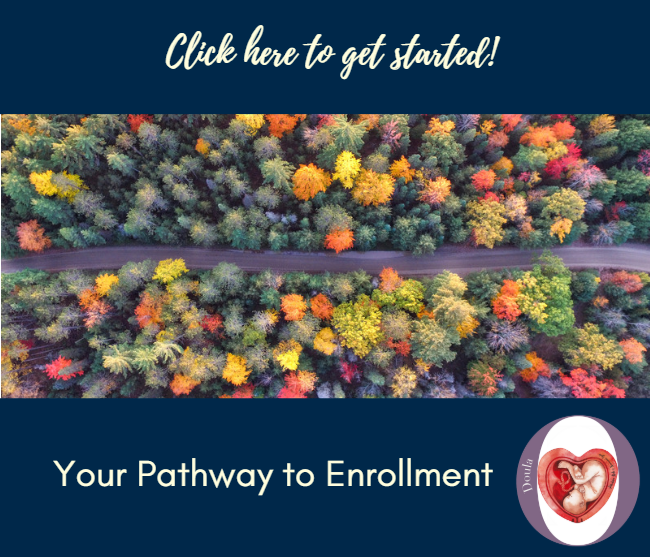 Or you can enroll here:
~~~~~~~~~~
FAQ
You are invited to use the user-friendly pull-down menu that appears when you hover your mouse over the "Become an SBD Doula®" menu tab above.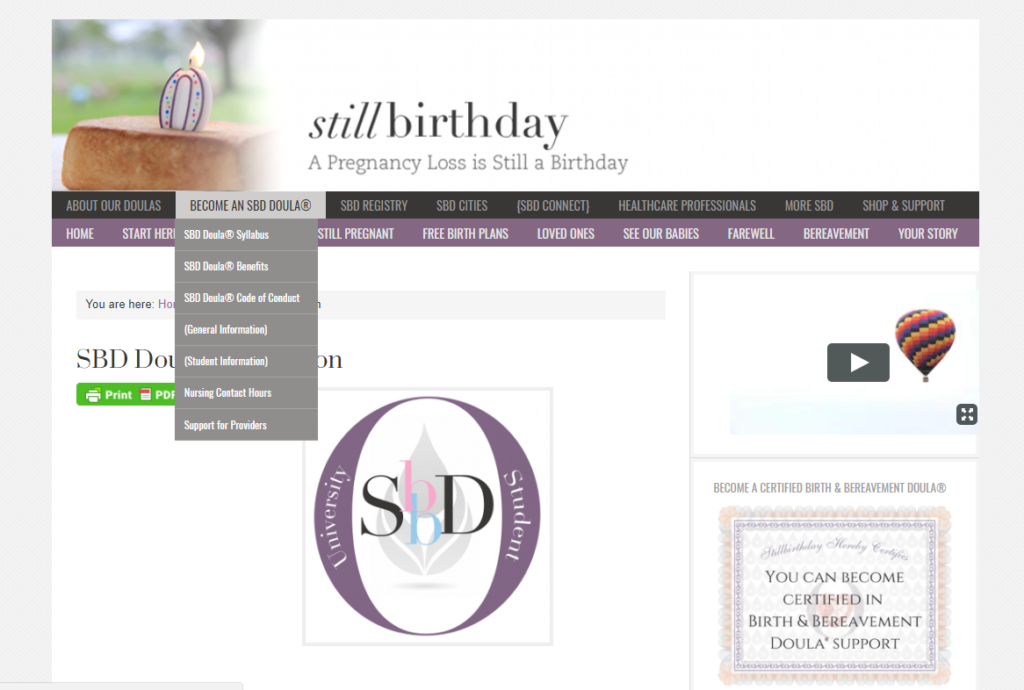 About the Advantages of SBD certification
Please enjoy our full listing of advantages of becoming a certified
Birth & Bereavement Doula® by clicking here.
About the Program: SBD Doula® Syllabus
View our program syllabus by clicking here.  When you're done viewing it, there'll be a link to return here to register.
About SBD University Admissions
We use it as a foyer to meet you, ensure you have your Orientation Manual, have signed the Welcome Letter, and receive your encryption accesses into your Study Hall and into the Student Database.
It and your Study Hall are both utilized on the facebook platform – the use of facebook is not a requirement for this course.  We just use it as a convenient social environment for the majority of our students who already have a presence on the social media platform.  We offer additional social enrichment opportunities within your private school and the course material itself.
The Student Database is a private school website that you will have access to from SBD U Admissions – this means that you can get started on your doula learning journey today!
About Your Study Hall Learning Session
Immediately as you complete tuition (below), you will receive an instant download we call our Orientation Manual.  It will lead you to two places:

Our Welcome Letter (which is our student code of conduct agreement)
From SBDU Admissions, you will have immediate access to an online Study Hall group for enrichment, dialogue and support.
You can work independently but still socialize with students learning from all over the globe.
Our Study Hall provides a global learning environment where questions and conversations are relevant to all of the current learners, where you'll have a sense of learning virtually side-by-side amazing people from all over the world.
Study Hall is offered in two sessions: January-June and July-December.
This newest structure of our learning experience allows you to learn alongside more learners, allows for the timetable to be learner-led, and is a change from our previous 4-session structure.
About Stillbirthday University: Your Private School
You will have access to our private student database, which contains your learning modules.
About Your Supported, Self-Paced, Student-Centered, Student-Led Learning Journey
We support the pace you need to graduate: this is an at-your-own pace program that you can begin today.
Registration is always open: you can register and get started now.
Your curriculum consists of 8 chapter files with a corresponding open book exam for each one, all held in organized modules.  These modules also contain supplemental content for your benefit.  This and completion of 2 book reviews and a Community Project enable you to successfully graduate.  You can click here to view our SBD Doula® Syllabus.
You get to determine the level of support you receive on this journey: you can choose to invest in a Faculty Aide as a kind of personal trainer.
Learn about the beneficial support of having your own Faculty Aide, in our coupons section, below.
About Learner-Led Support Options
Faculty
Heidi Faith, the founder of stillbirthday, is the only educator of this course, receiving exams and ensuring students adhere to the structure of the program and successfully achieve their credential.  Click here to learn about the class instructor.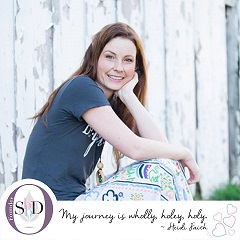 Faculty Aides
For enrichment and personal support, the Faculty Aide team works to connect with you, encourage you and support you on your learning journey.  Faculty Aides are SBD Alumni who have demonstrated exemplary service in our global community.  Faculty Aides are not hired employees nor do they have a role in the academic portion of the training, but are instead, actually more of a doula for your learning journey.  You can visit our Faculty Aide team page (click the photo) to learn about the team and secure a relationship with one of them.  They commit to the investment of time and dedication to your success, and when you secure one of them for your support, they will provide you with a coupon that provides savings into our doula program – so it's like you've hired them for free. 
If you enjoy social media, they will "tag" you into a conversational post in Study Hall each week for 8 weeks, or if you are learning outside of facebook, they will send you a weekly email for that timeframe. There are also always generous alumni who desire to volunteer within stillbirthday, and like Faculty Aides, you will see these Student Mentors within your social Study Hall.  They will simply post words of encouragement generally for the class at large.  This gives you a wonderful opportunity to connect with many credentialed SBD doulas from virtually all over the world.
Click here to view our Faculty Aide team – just scroll to the end of the page, then peruse their listings and choose yours!
About Fees
We never have any hidden, recurring, annual, recertifying, or any other fees whatsoever.
About the SBD® Doula
SBD® Doulas provide enormous support to families, care teams and communities, serving birth in all trimesters and birth in all outcomes.
Stillbirthday has created a special website just to showcase their wide breadth of services and relationships with their communities.
You can visit through either link,
www.stillbirthday.info, or, www.theSBDvow.com.
Want a step-by-step guide to getting started? 
Pull this window up as a step-by-step guide! 
Alternately, you can complete Step by Step Registration:
Complete Tuition  ($250 standard)
Join our Admissions classroom group
You'll find everything you need to get started in our Admissions group! For any questions, you can message or email Heidi Faith at Heidi.Faith@stillbirthday.com.
that's it!
Do you have questions prior to enrolling?  Visit our Open House.
~~~~~~~~~~~~~~~~~~~~~~~~~~~~~~

Once you are enrolled, you can enjoy the SBD University Student logo
at the very top of this page to add to your blog, website or social media page. 
Upon successful completion of the SBD birth & bereavement doula  program,
you'll receive permission to bear the official SBD doula logo,
among many other benefits.
Click here to enjoy our full listing of benefits!
About Tuition
Enjoy competetive pricing!   The price for this double certifying, credentialing course is only $250.00 USD
SBD U does not offer refunds for tuition for any reason: all proceeds, including tuition, are immediately invested into our many in-person and global support resources for families. We firmly believe that every mother has the right to choose to have a doula, and when you join our team, you become a very real part of seeing this happen.  We also offer scholarships and other discount savings.
You can learn more about tuition and scholarships here.  Tuition scholarships are for enrollment and your selection of your Faculty Aide is separate, though we do also offer the Brody Brown Faculty Aide scholarship.
After Graduation
You can keep on learning, through pursuing our SBD Chaplaincy program!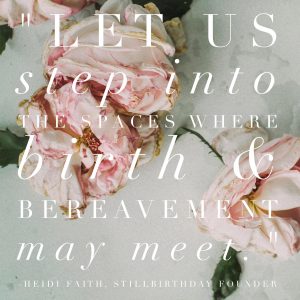 Join the thousand certified stillbirthday doulas all over the world!
See how you can support a family as a Stillbirthday Birth and Bereavement Doula®: